Start your 2023 social season with leading curators, scholars, collectors, designers, and institutions with special evenings filled with dynamic conversations on art, antiques, and collecting.


Reimagining the Museum: Between Art, Architecture, and Community
April 02, 2:30 PM - 3:30 PM
For more than four years, New York's Hispanic Society Museum & Library has been closed to visitors while undergoing a complex renovation and expansion. While the Museum is progressively reopening galleries as they finish renovation, with some already being back open to the public, the full results of the Museum's reimagining will be unveiled in 2023. In the meantime, join the celebrated trio behind the project for a discussion about the design process and the Museum's exciting new outlook on the future, from collections and exhibitions to community engagement.

This panel is a collaboration between The Winter Show, the Hispanic Society Museum & Library, and the Soane Foundation's Lecture Series on the future of museum design and practice.
WATCH NOW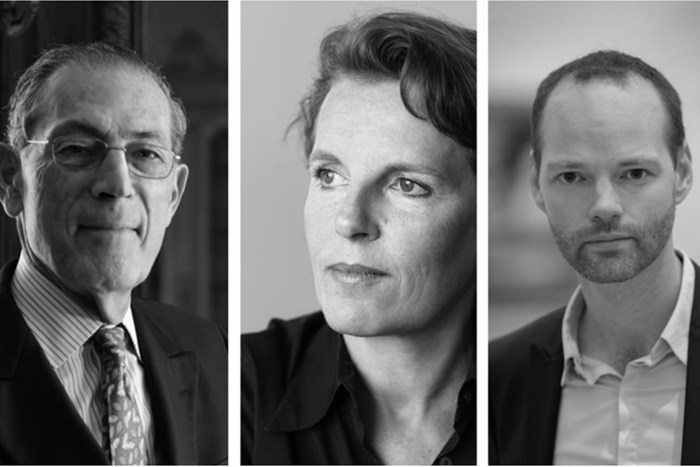 The Enduring Legacy of Louis C. Tiffany
April 04, 2:00 PM - 3:00 PM
Louis Comfort Tiffany was an artistic pioneer whose vision has had an enduring (or lasting) impact on American decorative arts. Join world-renowned experts, Alice Cooney Frelinghuysen, The Anthony W. and Lulu C. Wang Curator of American Decorative Arts, Jennifer Thalheimer, Curator at Charles Hosmer Morse Museum of American Art, and Arlie Sulka, expert on Louis Comfort Tiffany and Tiffany Studios and owner of Lillian Nassau LLC, as they explore Tiffany's vision and legacy, and the collectors whose contributions helped shape and define each museum's Tiffany collection.
WATCH NOW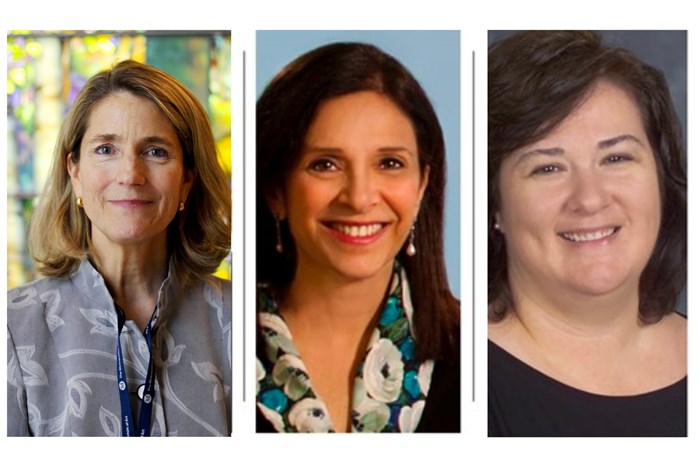 Rowdy Meadow: The Extraordinary Creation of an Art-Filled, Czech-Cubist-Inspired House
April 06, 2:00 PM - 3:00 PM
Join acclaimed architect Peter Pennoyer and Galerie Magazine Editor-in-Chief Jacqueline Terrebonne, as they explore Peter Pennoyer Architects' extraordinary creation of an art-filled, Cubism-inspired house. Set in an extensive sculpture park in Hunting Valley, Ohio, Rowdy Meadow will ultimately be bequeathed to the Cleveland Museum of Art.

Exploring the complex relationships between its architecture, interior design, furnishings, and collections of decorative and contemporary art, they will share four-season photography of the project, and address the challenges and rewards of designing a house that, room by room, engages with an extraordinary collection of twentieth-century furniture and decorative arts, and a significant contemporary art collection. They will also talk about how the house relates to the surrounding Reed Hilderbrand-designed sculpture park, which features works by Richard Serra, Sol LeWitt, Ai Weiwei, Anish Kapoor, Andy Goldsworthy, and others.
WATCH NOW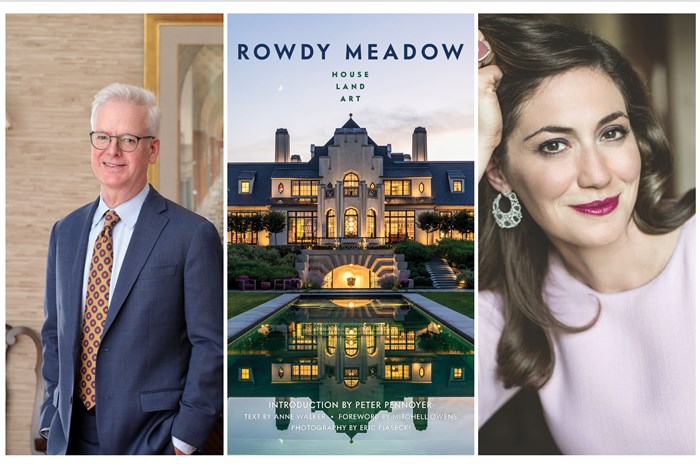 What is the New Eclectic Taste of the Times?
April 06, 5:00 PM - 6:00 PM
What Is The New Eclectic Taste of the Times? Eclectic design has and always will be the blending of various styles, textures, time periods, trends and colors to create an entirely unique design aesthetic, but what does that consist of these days?
As the world has spent the height of the pandemic indoors within their homes, we have developed a deeper intimacy with our interior spaces. As such, the state of design has transformed to reflect the present times we live in. Join leading design experts for a deep dive into the future of eclectic design.

MODERATOR:
Anthony Barzilay Freund, Editorial Director/Director Fine Art, 1stDibs

PANELISTS:
Todd Raymond, Todd Raymond Studio
Amy Lau, CEO & Founder, Amy Lau Design
Julien Legeard, Founding Principal, Legeard Studio
Benoist Drut, Partner, Maison Gerard
WATCH NOW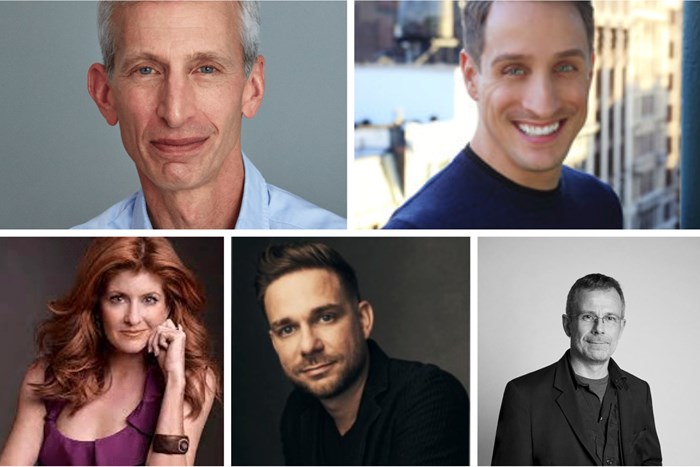 The Modern Guide to Building An Antique Collection To Wear Today and Pass Down Tomorrow
April 07, 4:00 PM - 5:00 PM
The discussion will take you through the different periods of antique jewelry, discuss what is on the market now, and help you identify what kind of collector you are. We will also cover how to collect so that the story of jewelry can be passed down to future generations while also sharing the many ways you can wear jewels from 100 years ago in today's world. There will be Q&A time at the end of the discussion and a book signing by author Beth Bernstein.

Panelists: Panel to include: Beth Bernstein, Author of "The Modern Guide To Antique Jewellery"; Ben Macklowe, Macklowe Gallery; Carrie Imberman, Kentshire; Peter Schaffer, A La Vieille Russie.
WATCH NOW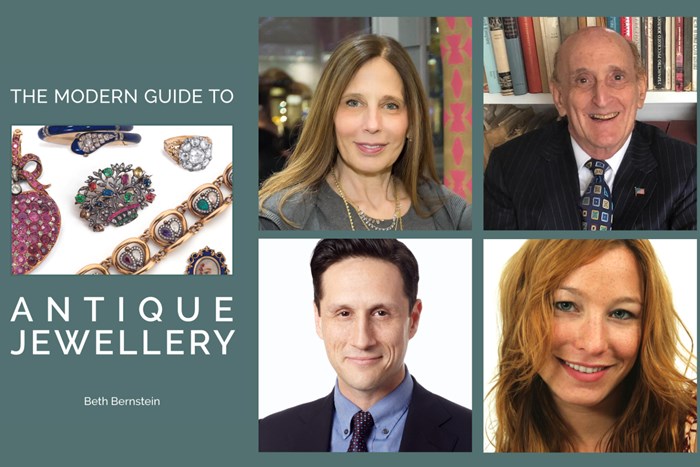 CRAFT IN THE AGE OF MECHANICAL REPRODUCTION
April 09, 2:00 PM - 3:00 PM
In 1935, Walter Benjamin foresaw a future in which everything about a work of art could be easily reproduced—everything, except for its "aura", the essence which gives it meaning. In the century since, reproduction has grown easier, cheaper, and faster, while the "aura" has grown more rarefied and precious.

What makes a product of skilled craftsmanship (as opposed to a product of mass production) compelling, alluring, and valuable? How can historical methods inform today's makers? What dangers and opportunities arise from the dominance of virtual spaces and new technologies? Our panel, featuring some of the sharpest minds both studying and practicing craft today, will consider the roles that technique, connoisseurship, and imagination play in the present and near future of creating and collecting.

Moderator:
Benjamin Miller, host, Curious Objects podcast for The Magazine Antiques, Director of Research, S.J. Shrubsole

Panelists:
Abraham Thomas, Daniel Brodsky Curator of Modern Architecture, Design, and Decorative Arts
Roxanne Jackson, Ceramicist
Andrew LaMar Hopkins, Artist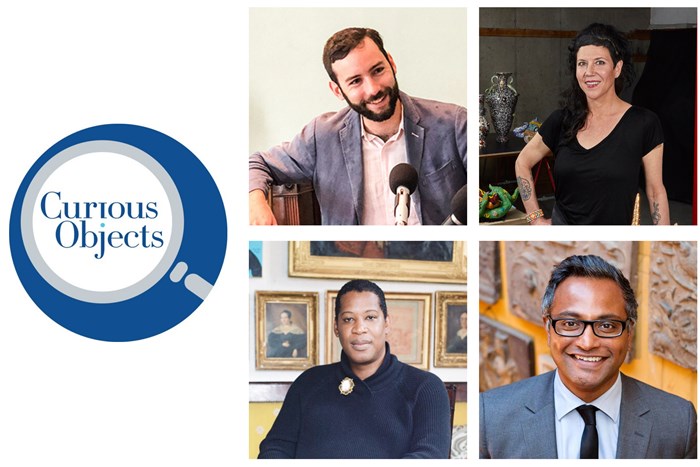 Portraits of Power
April 10, 2:00 PM - 3:00 PM
Join Aimee Ng, curator at The Frick Collection, and old master paintings experts and dealers Nicholas Hall, Jonny Yarker, and Robert Simon as they explore the historical significance of portraiture and its use as a mechanism to influence political and societal constructs.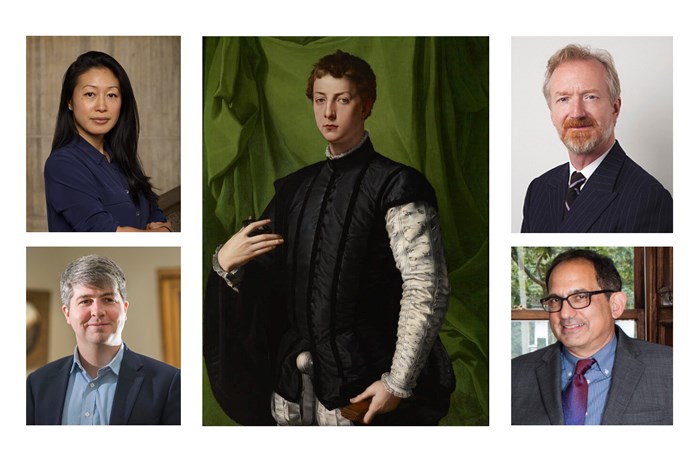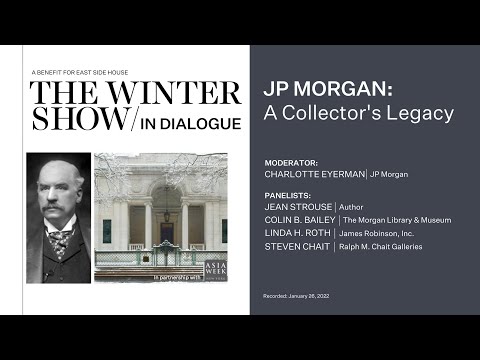 JP Morgan: A Collector's Legacy
John Pierpont Morgan was not only one of the most powerful figures in finance with his name atop one of the world's leading banking and investment firms, but also a prodigious collector, whose legacy resides in his many masterworks that are now highlights of important museum and private collections. The many facets of his passion for collecting, and the story behind his Asian, ancient, and Western art acquisitions will be explored by our notable panel of scholars.

MODERATOR:
Charlotte Eyerman, JP Morgan Chase

PANELISTS:
Colin B. Bailey, The Morgan Library & Museum
Steven Chait, Ralph M. Chait Galleries, Inc.
Linda Roth, Wadsworth Atheneum
Jean Strouse, Biographer and author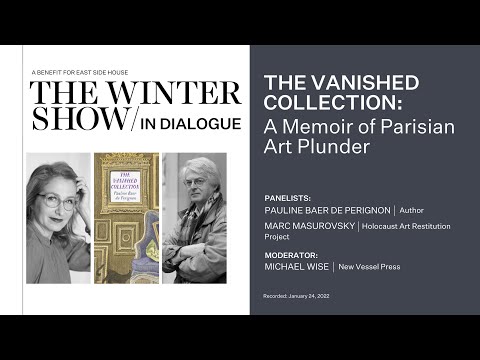 THE VANISHED COLLECTION: A Memoir of Parisian Art Plunder
Pauline Baer de Perignon's great-grandfather Jules Strauss was an avid collector and major donor to the Louvre in the early 20th century. Paintings in his collection by Renoir, Monet, Degas, Tiepolo, and more disappeared after the Nazi's seized his elegant Parisian apartment in 1942.

Join the author and Marc Masurovsky, founder of the Holocaust Art Restitution Project, for a discussion about the looting of art treasures in Nazi occupied Paris.