Highlight
A Highly Important Pair of Silver-Gilt Wine Coolers & Stands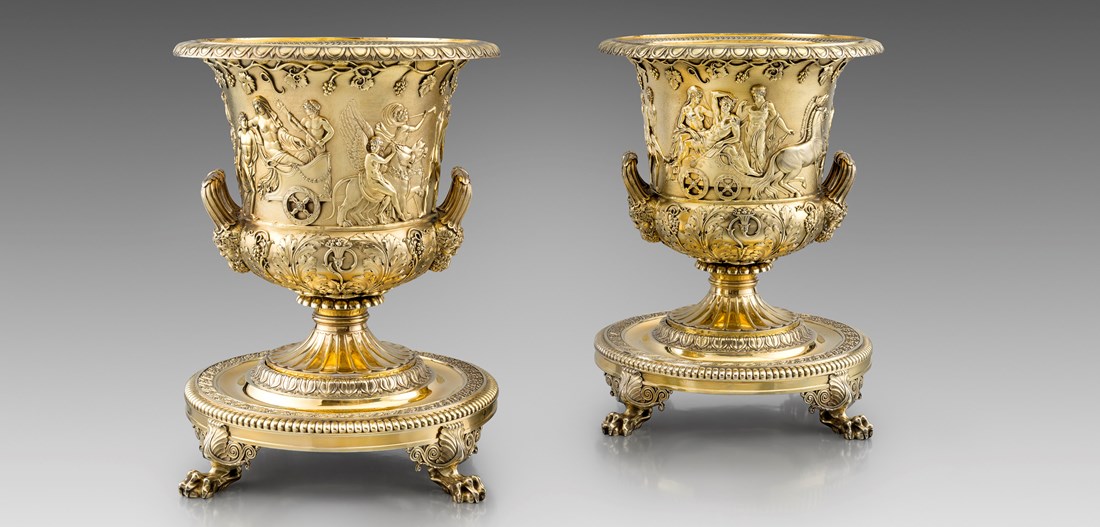 Paul Storr
Height: 35.5 cm, 14 in. Weight: 13,606 g, 437 oz Each campana-shaped, the detachable stands on three paw-feet, with gadrooned and acanthus foliage border, the body on fluted spreading circular foot, cast and chased on the lower part with oak and vine tendrils, with two leaf-capped fluted bracket handles with satyr's mask terminals, the upper part of body cast and chased with a frieze depicting the Triumph of Bacchus beneath trailing vines on matted ground, each with egg-and-dart rim.
DESCRIPTION
Koopman Rare Art is one of the world's leading dealers specialising in antique silver, gold boxes and objects de vertu. The company was founded by brothers Jacques and Eddy Koopman in 1952 and, after trading at the entrance to The London Silver Vaults on Chancery Lane since 1969, Koopman Rare Art has now moved to Mayfair at 12 Dover Street. We specialise in antique English silver, seeking the finest quality works especially by the Royal Goldsmiths Rundell Bridge & Rundell. However, we also have a keen eye for Chinese, Modern and Continental silver.

Lewis Smith and Timo Koopman, directors of Koopman Rare Art share a wealth of knowledge and expertise. Together they are able to source the highest quality objects by some of the leading master craftsmen in silver, such as Paul Storr, Paul de Lamerie and Benjamin Smith. We understand the importance of provenance research and pride ourselves on thorough academic study providing clients with works of the finest quality and design which can be trusted.

As London's pre-eminent antique silver dealers Koopman Rare Art have formed some of the most celebrated collections of antique silver in the world including those of His Excellency Mahdi Mohammed Al Tajir and the private collection of Australian businessman Kerry Packer. In addition, we have sold and continue to sell important antique silver to major museums including the Metropolitan Museum of Art in New York and the Victoria and Albert Museum in London.