Highlight
Self-Portrait as Saint Catherine of Alexandria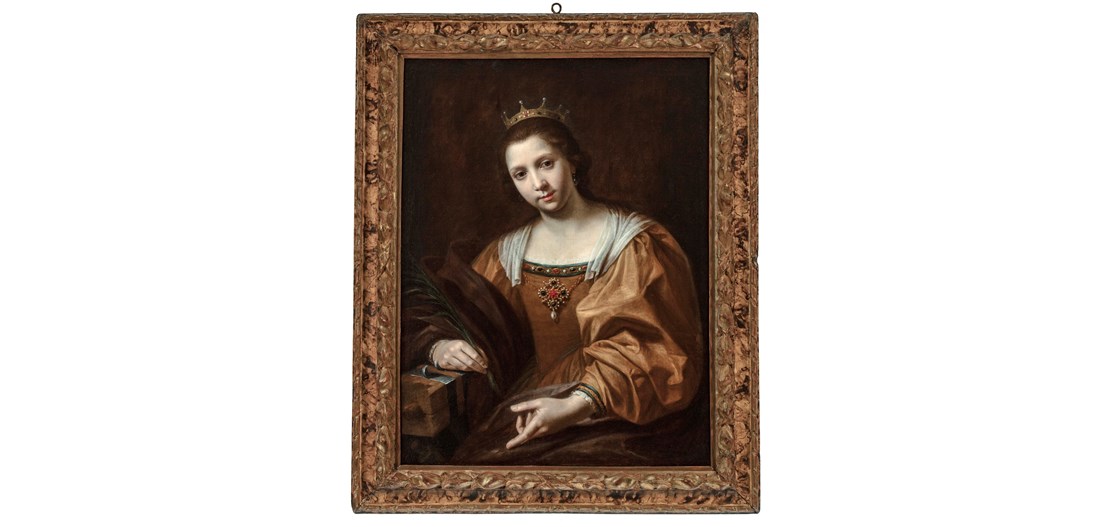 Virginia Vezzi, wife of the French Caravaggist painter Simon Vouet, is one of the most intriguing figures of the Roman Baroque. Vezzi frequently served as a model for her husband—appearing throughout his oeuvre as various biblical figures and mythological heroines. However, her career as a painter in her own right has only recently become the subject of scholarly attention.

This striking work on canvas by Vezzi is a self-portrait as Saint Catherine of Alexandria, the early Christian virgin martyr, here shown with her traditional attributes—a crown, a martyr's palm, and the broken wheel of her torture on which she rests her right arm. The saint's idealized features bear a strong resemblance to those in Claude Melan's engraved portrait of Vezzi. As a self-portrait, our painting follows a tradition of women artists painting themselves in the guise of strong and powerful women, including saints. Most prominent of these is Artemisia Gentileschi, whom Vezzi befriended in Rome in the 1620s.
DESCRIPTION
Robert Simon Fine Art is dedicated to introducing the great art of the past to new audiences, as well as to providing distinguished works to collectors and institutions worldwide. The gallery was born out of Robert's expertise in Italian painting, although his and the gallery's interests have since expanded to include the breadth of European painting and sculpture from the Renaissance to the Nineteenth Century. As broad as these interests are, connoisseurship underlies them all and has resulted in a remarkable series of discoveries of major pictures by artists as diverse as Pintoricchio, Dante Gabriel Rossetti, Vittore Carpaccio, Parmigianino, Guido Reni, Salvator Rosa, Paolo Uccello, and, notably, Leonardo da Vinci's Salvator Mundi. Additionally, he has led collector interest in the fields of female Old Master painters and Spanish Colonial art, having brought to light and placed important works in both areas. Significant paintings, drawings, and sculpture from the gallery are to be found in major American museums, as well as in private collections across the globe.